NEWS FOR 2018
NEW CD OF CHORAL WORKS: SURVIVORS
The newly launched CD Survivors reached No.5 on Radio NZ Concert's Classical Chart.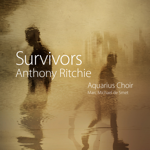 Anthony's recent choral compositions feature on a new CD Survivors released by Atoll Records in September. It features the Belgian choir Aquarius under their musical director Marc Michael de Smet, and includes new works such as Salaam and The Survivor as well as older works such as Widow's Songs. The recordings were made in a beautiful church in rural Belgium by this top a cappella choir.
The CD can be purchased from Marbecks or Relics
ALBATROSS IN FLIGHT - NEW RECORDING
Anthony's short concert opener Albatross in Flight (Opus 72) has had a superb online recording made with the NZ Symphony Orchestra. This 4 minute piece is vibrant and uplifting and not difficult for orchestras to play. Follow this link to SOUNZ (The Centre for NZ Music) for a listen!
RECENT PERFORMANCES
November 1 Viola Concerto No.1 was performed by Robert Ashworth and The Auckland Philharmonia Orchestra in the Auckland Town Hall.

September 23 More than 500 children premiered Toitu's Song, written to celebrate 50 years of The Saturday Morning Music Classes in Dunedin. With words by Jenny Powell, the song featured choir and almost any instrument you care to name! It was conducted by Aart Brusse in The Dunedin Town Hall. Anthony has also produced a version of the song for childrens' choir and piano which is now available here.
July 19-August 9 > Picture Stone: Trio for clarinet, violin and piano was toured by Klara Kolectiv, for Chamber Music NZ
August 4 and 5 > Viola Concerto No.2 premiered by Timothy Deighton (USA) and Dunedin Symphony Orchestra.

HE IS STARLIGHT ON CD
He is Starlight for brass band has been recorded onto CD called Aotearoa by The NZ Army Band, under conductor Graham Hickman. It is available from cdbaby or itunes.
GALLIPOLI TO THE SOMME, U.K.
Gallipoli to the Somme was performed in Oxford and London in June, by the UK Parliament Choir and The Southbank Sinfonia under conductor Simon Over. Soprano Anna Leese travelled to the UK to perform solo in the work, alongside British baritone Jon Stainsby. Both singers were magnificent, as was the choir, who were augmented by 30 or so singers from City Choir Dunedin - having travelled around the world to join the performance! Tessa Petersen also made the trip to perform the violin solo. The work was very well received, the composer receiving many heart-felt messages from choristers and audience members.
Here is a link to a Podcast from the Oxford concert.
OBOE CONCERTO TRAVELS TO GERMANY
Anthony's Oboe Concerto is being performed at the Berlin Konzerthaus on 19 August, during the Auckland Youth Orchestra's European tour. The soloist will again be Noah Rudd, who performed this work last year with the orchestra in Auckland.
WHALESONG IN SCOTLAND
Anthony's mini-concerto for double bass and orchestra, Whalesong, was performed in July by the National Youth Orchestra of Scotland's Junior Orchestra in Glasgow, under the baton of Holly Mathieson. The soloist was Ben Burnley, and the young players rose to the challenge of this difficult piece very well.
THE EAGLE HAS LANDED
Anthony's opera The Eagle has Landed enjoyed a season of 6 performances during the CubaDupa Festival in Wellington, March 24-25. This comic opera, with libretto by Stuart Hoar, combines the famous 1969 moon landing with characters from Jules Verne's 1865 novel From the Earth to the Moon. It received a fabulous outdoors production at the hands of director Jacqui Coats and her team, supported by Opera NZ. You will be able to view this online, thanks to a film by Chris Watson from SOUNZ due to be released later this year.
ARTIST IN RESIDENCE
Anthony was Artist in Residence at Woodford House College in Havelock North in February. Anthony worked with the girls and teachers on composition, and directed the Woodford Chapel Choir for rehearsals of a new song that he wrote them, entitled Here Future Lies. The song was premiered in The Big Sing regional competition in June.
NZSO RECORDING ALBATROSS IN FLIGHT
The NZ Symphony Orchestra recorded Albatross in Flight for The SOUNZ website, as part of the SOUNZ Composer Sessions. The recording sessions took place in January 2018. Albatross in Flight is a short, vibrant concert fanfare based on the graceful movements of an iconic NZ bird.
INAUGURAL PROFESSORIAL LECTURE
Anthony was promoted to Professor by the University of Otago. Here is a link to his inaugural professorial lecture