ANTHONY RITCHIE
'A Bugle Will Do' recording of the month on Music Web International.
Anthony's CD 'A Bugle Will Do' has been named "the top New Zealand composition CD of the year" by The Listener (December 12-21). Reviewer Ian Dando cites the works Revelations and Symphony No.3 as the "stunners" on the CD. The disk has also been named one of the "CDs of the year" by British reviewer Nick Barnard, on the Music Web International site.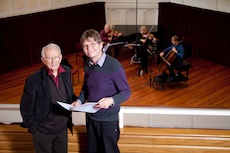 John & Anthony Ritchie with the NZSQ; Marama Hall, October 5 2011
Radio highlights
In November last year Anthony acted as Composer Mentor for the Todd Young Composers Competition, featuring student works performed by the NZSO. Anthony enjoyed working with these talented young composers, and also with conductor Tecwyn Evans. RNZ has made 2 radio programmes on the event, which are being aired on Sundays, April 14 and 21, at 8pm.
Anthony has also devised his own radio programme, featuring Dunedin composers who are associated with the University of Otago. This is being aired on Otago Access Radio (105.4 FM) on Wednesday nights at 8.30pm, and features student composers Corwin Newall, Chris Geddes, Kerian Varaine and staff composers John Drummond, Lou Kewene, Graeme Downes, as well as Anthony himself. The remaining composer is this year's Mozart Fellow, Samuel Holloway. Listen in, or catch the podcast from the Otago Access Radio website.
NEWS FROM 2012
The title track for the CD, A Bugle Will Do, is an overture dedicated to war hero Sir Charles Upham, depicting scenes from his life. If there is a theme to the CD it is the theme of conflict and peace, whether physical or mental. The third track is Revelations, describing a near-death experience and the idea of life after death. The final track, French Overture, was composed in Paris and is a Kiwi's response to life in a big city with a long history.
Anthony's music is communicative, exciting and emotional and beautifully interpreted by New Zealand's world-class orchestra along with rising international star, Tecwyn Evans. The quality of the Atoll recording, produced in the Wellington Town Hall, is superb.
The CD A Bugle Will Do is a must-buy for followers of classical music. You can purchase it online from Atoll CD or via this website. The NZSO are also selling the CD through their online shop, and it is available from retail outlets Marbecks, Parsons etc.
Review of Symphonies No.1 and 2 on CD (Kiwi-Pacific Records, 2007)
British reviewer Nick Barnard had positive things to say about Anthony's CD Symphonies No.1 and 2, on Music Web International. Here are just two quotations:
"He strikes me as part of a small elite group of composers who have found - in their differing ways - a personal musical language that takes elements of contemporary musical culture, whether nominally classical, ethnic or popular and fuses the resulting conflation into works that speak with a relevance and depth to audiences who might otherwise feel the contemporary music genre was too unapproachable."
"What is not in any doubt is just how engaging and of real worth Ritchie's music is. Certainly it deserves to be far more widely known than it currently is outside of his native country. By now it should be clear that this is music that appeals to both the head and the heart and speaks using a voice that will touch those who do not normally respond to the traditional Classical Music idiom."
UPCOMING WORK
Symphony No.4
Between July 2012 and January this year Anthony was on study leave from his University job, and spent that time working on a new symphony. Entitled Stations, the symphony is looking likely to be premiered in 2014. Watch this space . . .
Pelog Quartet
Anthony has written a new piano quartet for the Tresoli Trio in Christchurch, plus violist Vyvan Yendoll. Called the Pelog Quartet after influences from Indonesian gamelan, the new work will be premiered in this year's Christophers Classics series, on Tuesday August 6th.
Touched for piano
Commissioned by Auckland pianist, Stephen de Pledge, this new piece is based on the theme of love and relationships. The 10-minute work is due to be premiered in 2014.
Tako-tsubo for S.S.A.A. choir
Columba College in Dunedin commissioned Anthony to write a song for Columbus Cantus, for inclusion in The Big Sing 2013. This song is a setting of a brilliant, vibrant poem by Sue Wootton, and inspects the dangers of being disappointed in love. This song is ideal for high school choirs, but also adult groups as well.
New publications
Anthony's Symphony No.3 was published late in 2012 by Promethean Editions in their new University Series. This handsome publication was then followed earlier this year by another Promethean publication: Meditation for Violin and Piano, a work Anthony wrote for friends Tessa Petersen and John van Buskirk, and which was released on a CD of music by Mozart Fellows, from 2012 (Ode/Manu Records). Both are available online from Promethean Editions. Anthony's scores for brass, Triptych for Euphonium, Clouds for trombone, and Down the Brunner Mine for brass band, are being prepared for publication with Prima Vista Musikk in the U.K. Finally, he is also collaborating on a publication of childrens' piano duets with Christopher Norton, and other NZ composers.